Why Oxygen
Oxygen has been shown in scientific studies to be beneficial in promoting healing and reducing infection. OxyBand Technologies™ has developed patented technology that delivers the therapeutic value of oxygen to accelerate wound healing and fight infection.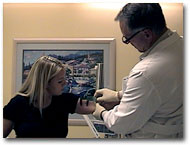 Testing with OxyBand™ wound dressings demonstrated significantly faster healing, less pain, less exudate, reduced redness and reduced initial scarring on standardized laser burn wounds compared to control dressings.  Additional studies have further demonstrated the efficacy of OxyBand™ on other types of wounds at a major academic medical institution.
The United States Army Institute for Surgical Research conducted a clinical trial evaluating the efficacy of OxyBand. According to the published results, OxyBand Wound Dressing™ significantly accelerated healing by at least 3 days (25%) & significantly reduced pain at the wound site for larger donor site wounds without any infection compared to the standard of care. (Journal of Burn Care & Research, Supplement, March 2013). 

OxyBand™ Innovations
OxyBand Technologies Inc. develops proprietary patented bio medical technologies from concept to market that provide therapeutic gases such as oxygen and nitric oxide in device applications for traumatic & other acute wounds, diabetic & chronic skin ulcers, eye diseases, orthopedics, regenerative medicine, antimicrobial healing & cosmetic procedures among others. OxyBand has a comprehensive patent portfolio, a pipeline and an FDA approved unique medical device, OxyBand Wound Dressing™ that in three clinical trials has been shown to heal wounds faster with less pain & inflammation & without any infection compared to standard of care and placebo (Poulos et al., Lairet, et. al). 

OxyBand Technologies Inc. which has developed 68 US & International patents for therapeutic oxygen & other gas devices including OxyBand Wound Dressing™ an FDA approved, commercially available wound dressing that acts similar to a transdermal patch providing pure oxygen to wounds for up to 5 days.  OxyBand is dedicated to developing the most effective wound and tissue healing technologies for the wounded warrior and patients everywhere.
OxyBand™ Applications
OxyBand™ wound dressing is an innovative oxygen delivery technology in a traditional wound dressing that acts like a transdermal patch targeting oxygen delivery into the wound for faster healing.
OxyBand Technologies™ is the first company to package pure oxygen into a discrete wound dressing using its directionally permeable gas-emitting reservoir. An expansive development program is underway to demonstrate superior efficacy in numerous applications.
Designs for Healing
OxyBand Technologies™ has developed therapeutic oxygen delivery technology that provides continuous oxygen to a wound site, is easy to use, provides options for hybrid product and is cost-effective for medical and consumer markets.
CLICK to Enlarge
The Use of Oxygen in Healing
Extensive investigation has been performed on the positive effect of oxygen on wound healing Oxygen has been found to be essential in angiogenesis, collagen synthesis, wound contraction, epithelialization, and prevention of infection (4-7), all of which are necessary for tissue repair
and wound healing. Animal and laboratory studies have shown that decreased oxygen levels in the wound result in impaired fibroblast proliferation and collagen deposition, reduced tensile strength, higher rates of infection and reduced mobility of specific cells (7-10). In a rabbit model, wounds were treated with 100% topical oxygen supplied continuously and full thickness punch biopsies were evaluated for epithelialization. In this study, the topical oxygen treatment group demonstrated a significantly greater healing response compared to the controls, with almost two times the epithelial wound coverage in the treatment group (9). Another animal study, using rats, looked at the size of wounds over time treat with an oxygen-generating dressing versus a control dressing. The rats treated with oxygen-generating dressing had a significantly shorter time to closure of their wounds, compared to a similar occlusive dressing without oxygen (10).

Hyperbaric Oxygen And Locally Applied Oxygen
Hyperbaric oxygen therapy (HBOT) has been shown to improve healing of chronic wounds in humans (11), but requires multiple visits to HBOT facilities with HBOT trained personnel and has associated risks for high pressure oxygen toxicity. Compared to hyperbaric oxygen therapy, advantages of locally applied oxygen, OxyBand Wound Dressing™, include:
lower cost, portability
ease of use for self
buddy and clinic care
no systemic toxicity issues
potential for home care
field use among other benefits (11)
The flexibility in the care setting and the demonstrated benefits of oxygen therapy for wound healing can provide treatment for many more patients with no known detrimental effects on the wounds or the patients
(12-13)